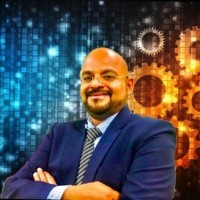 He is practiced in different kind of Infra & Building service through multinational projects, such as Doha Metro, Lusail Infrastructure project – Qatar, Hamad international Airport – Qatar, Durrat Al Bahrain Project –Bahrain.
He is a BIM Expert to develop BIM models as well, He used to practice, power and water transmission and distribution systems / networks, huge type of hospitals, huge type of warehouses, High rise towers, commercial projects, Group of villas etc.
He has driven as Technical Manager, Testing and commissioning Manager, MEP Manager, and Interface Manager etc. His education background holds Doctorate in Electrical Engineering and Mechanical Engineering – Design from recognized universities.
He had written many MEP research articles, and the same have been published in several International Indexed Journals with ISSN (International Standard Serial Number), which are approved by UGC (University Grants Commission), Government of India.
Moreover, he is the author of MEP engineering books published with unique International Publisher's Identifier number ISBN( International standard Book Number) allocated by the Department of Higher Education, Ministry of Human Resource Development, Government of India, has published a Book titled "DESIGN AND OPTIMIZATION OF HVAC SYSTEM – A FUNDAMENTAL APPROACH" (ISBN: 978-81-932908-4-2) during September 2016, and Book Titled " DESIGNING AN ELECTRICAL BUILDING ENVELOPE (ISBN – "978-93-86388-00-1) during January 2017
Education Background – DR. Jen Jacob
Postdoctoral Researcher – Mechanical Engineering – Two Research Areas
RESEARCH AREA- Analysis and Optimization of Ventilation Systems and HVAC System for an Underground Transport Interchange building and Pump stations "with the Supervision of Prof. Dr. Rohan Senanayake on behalf of the Lincoln University College, Malaysia.
RESEARCH AREA – Boost efficiency with district cooling systems IN GULF REGION via Crown University Int
Dr. Jen has registered as a European Engineer (Eur Ing) from FEANI, Brussels and MEP Chartered Engineer from CEng UK. he has holding two Doctors in Philosophy (PHD) – Mechanical Engineering-Design and electrical engineering. Also, he holds the master's degree in Master of Business Administration (MBA) – Operation and Project Management, master's in engineering, also hold the Mechanical engineering degree.
Additionally, he has completed the center board exam in engineering, such as mechanical engineering, air conditioning engineering, automobile engineering, which is equivalent to BE / BTech. also completed many engineering diplomas.